Learn more about our work in the RGV.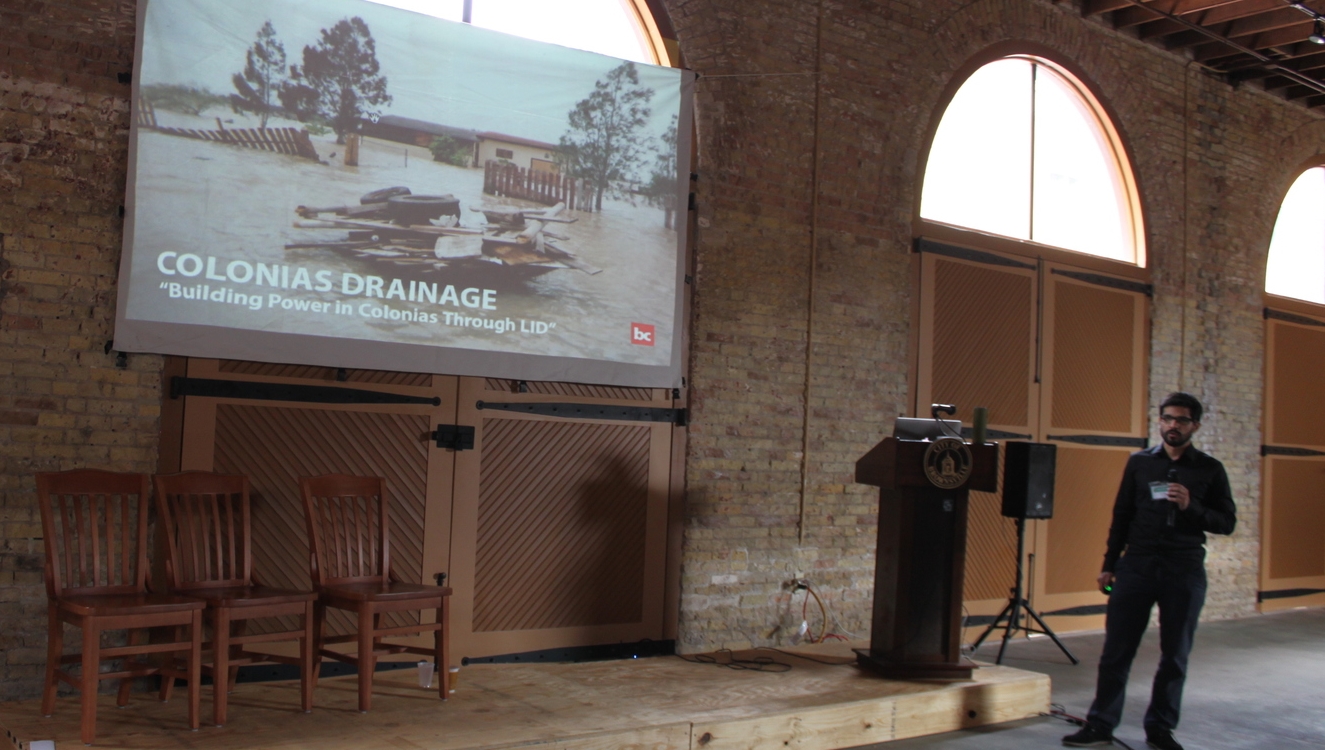 On January 30th & 31st, 2015, [bc] hosted the Public Interest Design Institute at the Market Square Center in Brownsville, TX.
The Public Interest Design Institute is a two-day course that provides design and planning professionals with in-depth study on methods of design that can address the critical issues faced by communities. The curriculum is formed around the Social Economic Environmental Design® metric, a set of standards that outline the process and principles of this growing approach to design. SEED goes beyond green design with a "triple bottom line" approach that includes social, economic and environmental issues in the design process.
PIDI Brownsville was the most highly-attended PIDI conference ever, thanks to Design Corps and to funders such as the Community Development Corporation of Brownsville (CDCB), Brownsville Community Improvement Corporation (BCIC), the LRGV chapter of the American Institute of Architects, the City of Brownsville, and [bc], who enabled free and low-cost attendance at the event.
PIDI Brownsville presented an array of topics focused on issues faced by most communities in the Rio Grande Valley, such as housing, infrastructure, downtown revitalization, and public health. Panelists discussed how to harness community partnerships and design for the public interest as a tool to improve our communities and build healthy and resilient environments. The diverse audience in attendance (city and county employees, local and international design professionals, engineers, [bc] partners, architecture students and community organizers) contributed to a productive discussion of these issues and possible solutions.
Speakers included Nick Mitchell-Bennett, Executive Director of CDCB, Maurice Cox, as well as Brent Brown and staff members from the [bc] Rio Grande Valley office. By contextualizing the principles of public interest design into the issues that Brownsville & the Lower Rio Grande Valley are facing, participants learned how to use public interest design when planning for diverse needs, such as infrastructure, public health and post-disaster recovery housing. Participants from Monterrey, Mexico also expressed their desire to apply practices from public interest design in the U.S. to issues being faced in their respective communities.
PIDI Brownsville events included:
Day 1:
[PANEL] Inclusive Strategies: Leadership and Partnerships
[PANEL] Building It Better: Resilient Housing and Infrastructure
[LECTURE] [bc]: Working Across Scales: La Hacienda Casitas, sustainABLEhouse, and RAPIDO
Day 2:
[Keynote] - Maurice Cox shared his work from Charlottesville and his work with Tulane University in New Orleans. His design, political, institutional, and educational experience serve to tie the panel topics with what is currently happening in Brownsville.
[PANEL] Downtown Economics: Urban Redevelopment and Revitalization
[PANEL] Healthy Environments: Designing and Building Healthy Communities
"I'm a civil engineer, so it's kind of hard to apply PID to installation of a sanitary sewer line, for example. However, I frequently work hand-in-hand with architectural firms (civil site design) so the course did give me some valuable insight into the big picture, i.e. what a versatile design team is capable of accomplishing for the common good of the community," noted one participant.
Check out the #pidibrownsville hashtag for coverage of the event on Twitter, including lessons learned from PIDI Brownsville:
Invest in the people to reach sustainability goals.

Collaboration & teamwork is essential to serving the public.

Partnership & interdisciplinary goals are necessary for successful projects with public-interest goals.
[bc] hopes to recreate the success of PIDI Brownsville in Dallas, TX. Join us for PIDI Dallas in September 2015.